How to build an EX-centric organisation
Employee Experience (EX), like its sister Customer Experience (CX), has become a new priority for global firms, with a path to growth and competitive advantage. KennedyFitch just completed an EX Study of 250+ global companies, plus interviews of EX Pioneers e.g. AirBnB, GE, ING, LearnVest and others, as well as secondary research. EX is an exciting, new and revolutionary concept, and we want to share what we have discovered and help companies design EX for their organizations.
We are now ready to share the results with you on 3 levels: We have developed a full report of our research: Building an EX-Centric Organization, with deep insights of critical EX concepts and a Playbook for how you can design it in your own organization.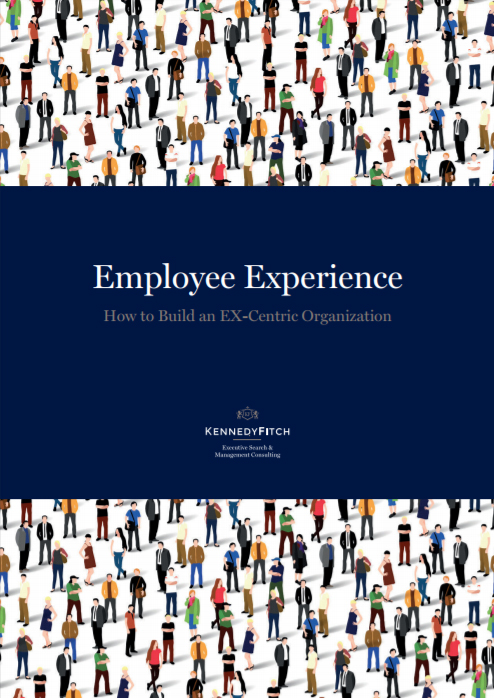 DOWNLOAD OUR REPORT
Fill in your email address and download the report "How to Build an EX-Centric Organization".
EX Workshops
We are hosting full-day EX Workshops based on our EX Playbook, where we will share results of our study and how to build EX in your organization.
In this interactive workshop you will learn the following concepts and come away with your own high level plan for how to become an EX-Centric Organization:
- Why EX and CX matter and the need for a complete transformation in the way we think and work
- How CX and EX have evolved, EX and Engagement
- What our research tells us is happening now and in the next 1-2 years
- How EX is taking shape - Case studies of EX Pioneers and how they have used EX as key to Business Transformation
- How do you design EX - what does an EX Playbook look like?
- What does an EX-Centric Transformation roadmap look like?
- What kinds of new roles & teams are being created - how to reshape, build new thinking and capabilities, 
- How to engage your CEO and leadership team.
Register now to save your seat!